Interstate Removals by CBD Movers
at Reasonable Prices
CBD Movers' interstate removal services are available in Sydney and the rest of Australia at convenient pricing. From a very basic plan of two movers and a truck, the removalists can help you move large houses from Sydney to anywhere in Australia. Moving with CBD Movers means that you can drop all worries about how the moving would go about. Since the removals are handled by professionals, the customers get a certain quality of service and efficiency.
CBD Movers and Removalists have been working in Sydney for over a decade and cater to a varied cadre of customers. Their reasonable prices mean that people from all kinds of backgrounds can enjoy removal services. CBD Movers are removalists that have served more than 2,400 families in Australia and a majority of this business comes from cities such as Sydney.
When you are moving with CBD Movers, you can let the company take care of everything; from providing packaging supplies to cleaning the house after you move out. Everything in between, like packing, loading, moving, and unloading are handled by licensed and trained professionals.
Moving interstate with a removalist gives you the advantage.
Here are 6 reasons why you need a removalist in Sydney
Moving with the help of a professional removalist is the way forward. The removal will be much smoother and you may think that it will cost more, but in fact, keeping the operations in mind, hiring a removalist is cheaper. You get the support of experience and expertise. Especially in Sydney, where things need to go at a certain pace and life is more hectic, professional removalists can help you relocate without any problems.
Removalists are experienced
Experience is an important factor when it comes to using any service. For customers, it is crucial to go for a service provider that has experience in their particular field. As far as packing and moving are concerned, experienced removalists such as CBD Movers know the problems that may arise from time to time. Consequently, they also know how to solve them. Interstate removals are a whole different gravy than local removals. Removalists like CBD Movers have completed more than 100,000 local and interstate removals; their extensive experience is an edge that you will get only with a few other removalists.
Interstate removalists have appropriate infrastructure
When we speak about interstate removals, we are generally dealing with a large project. Even a small house removal from Sydney to Perth, for example, requires a lot of resources and expertise. Things such as standardised equipment and well-conditioned trucks are important. Removalists have everything that you need to complete a move successfully and without any monetary or resource losses. CBD Movers have everything from a simple dolly to a large truck that can hold tons of weight. The removalists can help you move any volume of items from and to Sydney.
Removalists help you cut costs
Working with an experienced removalist outfit such as CBD Movers means that you will get a one-stop solution for any kind of removal. From a duplex to a large corporate building, CBD Movers can help you with any volume of items at reasonable prices. The removalists provide packaging materials at low costs as well. These help you save costs in the long run. If you are going with packaging supplies from third-party, CBD Movers can advise you on what to buy and what to avoid.
Removalists can complete the move quickly
Another direct consequence of experience, removalists will help you move interstate from Sydney quickly. As compared to what it would take you to move everything on your own, the removalists would require very less time. Since they have been in the business for a long time, they know the most efficient workarounds and the fastest solutions to problems that may pop up from time to time.
Removalists can help with home removals as well as office removals
CBD Movers' removalist services are varied. They can help you with home removals as well as with office removals. With great expertise in furniture removals, commercial and residential moves are quite simple with these removalists. They have all the right equipment and an extensive fleet of carriers and trucks ready to help you move interstate.
Removalists provide additional services
CBD Movers are diverse in nature. Not only are they experts at furniture removals and home removals, they can help you with stuff like cleaning and pet removals. With a rich knowledge bank and tons of ways to help you cut costs, you can also use the removalists for:
Antiques removals.
Piano and pool table removals.
Pet removals.
Cleaning services.
Valet services.
eBay deliveries.
Office rewiring and reinstallments.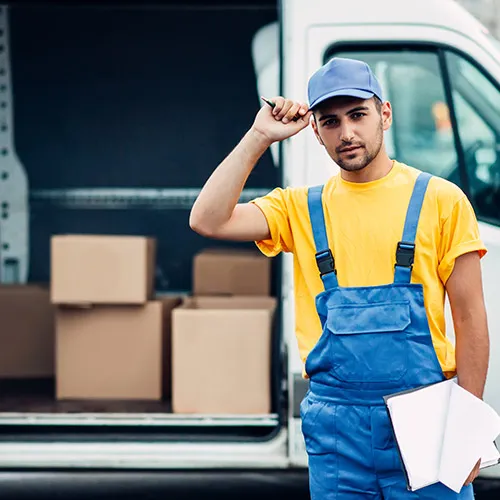 How You Can Enjoy CBD Mover's Premium Interstate Removalist Services
CBD Movers' presence in Sydney means that cheap interstate removals are now at your doorstep. You are just a simple phone call away from premium furniture removals, pet removals, packing and unpacking services, etc.
Here's how the magic unfolds:
Customers call CBD Movers on 1300 585 828 to move interstate with removalist services in Sydney.
Removalists from CBD Movers visit your house/office and gather all the requirements so that the estimate is accurate.
CBD Movers sends a transparent and broken-down estimate with no hidden charges or duties.
CBD Movers helps customers with cheap home and office removals in Sydney and customers enjoy premium services such as packing and pet removals
In a nutshell, we can say that CBD Mover's interstate services are divided into:
House removals.
Office removals.
Furniture removals.
Commercial removals.
Selling packaging materials and packing and unpacking services.
Deliveries and premium services such as pet removals.
Cleaning services.
Major interstate removal projects deal with the following cities and locations:
Sydney to Gold Coast.
Sydney to Adelaide.
Sydney to Canberra.
Sydney to Melbourne.
Sydney to Brisbane.
Sydney to Perth.
CBD Movers has an experienced and trained staff and it provides 24x7 customer support as well. Even after the removals are done, you can contact their after-sales support in case of any issues or doubts. Moving with CBD Movers is safe and the removalists ensure that damage to your items are avoided at all costs.
Call 1300 585 828 and CBD Movers' interstate removalists will help you move to/from Sydney at amazing prices.
FAQ's